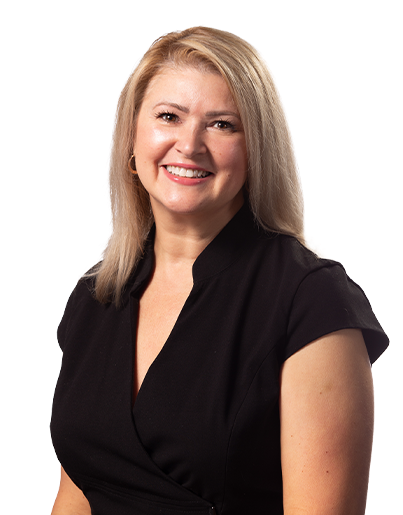 Hi, I'm Christi!
Loan Officer
I will work hard to help you achieve your homeownership goals.
Hi, I'm Christi!
Loan Officer
I will work hard to help you achieve your homeownership goals.
Let me help
you

get pre-approved today!

As a loan officer with Ruoff, I like to think of my role as a facilitator. If I can be the link to a better life or financially improved circumstances for a family, then I want to help them get there. In a way, I suppose my role is to simplify the process and make things as stress free as possible. I work to put my clients' minds at ease. So many people feel like getting a mortgage would be too complicated, too time-consuming, or expensive. I love walking them through the (sometimes) daunting process of refinancing and getting preapproved. I feel so thankful when I'm trusted with their personal information and the very roof over their heads. I take that responsibility seriously.

I thought being a single mom would be the greatest challenge of my life, but it wasn't. Convincing myself that I could go back to school and start a new career so close to 50 years old was really the biggest obstacle. Once I convinced myself I had it in me, I realized everyone else believed in me all along. I don't think success is something that can be judged by a dollar amount or a shiny car. I think it's in the way a person carries themselves. It's in the way a person walks confidently or the lines of worry across their face. I know that my daughter is watching me and how I deal with the ups and downs of life. If I don't give up, maybe she won't give up when she gets to a crossroads someday.

I'm not the type of person that gives up easily – I'll just find another way. I strive to be kind and helpful. I want to know that I have made a positive impact on someone every day. Working as a loan officer with Ruoff has given me this opportunity. Ruoff seems to have found a way to keep a loan flowing through a system seamlessly. The group goal of keeping that loan moving and getting it closed is so refreshing in an industry that can, at times, appear to be fighting amongst itself to prove why it shouldn't close. I think the difference is in its people. We are genuinely passionate about our jobs, our work, and making things happen. Not to mention that I work on the Bernhart Team! This team is firing on all cylinders and works as one to get things done right and as soon as possible. What an amazing feeling to know that I'm not alone in working on each loan!

The best advice I would give someone looking to buy or refinance is to ask if your lender makes you feel that they are in this with you and for you. If it feels like you and your loan is lost in the shuffle and your circumstances aren't that important – you're probably right.

Get Started
What is
your

goal?
Buy a Home
From finding your perfect home to moving in, we've got you covered.
Refinance
Need a lower monthly payment, or want to get cash out? Learn more about your options.
Sell My Home
Get your house on the market, and look for your next home!
Hear from people like
you
This is the fifth house I have purchased and I wish I had had Christi for every one of them, she was so patient and helpful with every aspect of my purchase. With the market being so hot I had to get multiple pre-approval letters from her and had to call her so many times with all the questions I had about the purchase, and she always was very courteous and helpful in every aspect, a true professional at her work! I even had to withdrawal from a house I wanted after issues on the final inspection, and as usual, she helped me by getting my appraisal money on that house refunded to me!! Thanks, Christi, it was a true pleasure!

Noel R

, happy client

I am so grateful to Christi for helping me refinance my home. She helped me understand my options and guided me through the steps that I needed to take to qualify. She is knowledgeable, professional, patient...I could go on and on. I recommend everyone to talk to her about any mortgage needs. Thank You Christi!

Bozena U

, happy client

We were hesitant about refinancing because we worried so much about the cost of doing it. What we didn't realize was we would make up for those costs before we ever owed our first payment on the new loan. No house payment for 2 months and all of our money in escrow came back to us. Plus our new rate was 2 points lower. It was a smooth and fairly easy process for us. Christi was so informative and just held our hand. We have and will recommend her.

Ryan & Cindy

, happy client

For 10 years we had a really high-interest rate on our house. We knew it was high but we were never comfortable enough to ask anyone about it. Finally, we reached out to Christi just to ask what rate we could get. We never expected to save $160 a month and shorten our term by 60 months. Kim and I are very please with the way the refinance went.

Denise & Kim

, happy client

We had a great experience with Christi. She was informative and thorough. We never had to wonder what was happening with our loan or what was coming next. There's no question who I would recommend to anyone looking to refinance for a better rate. We'll be saving $70,000 just on interest.

Mark & Sandi C

, happy client

My husband and I were so thankful we found Christi to take care of the refinance of our home. She was very patient with us and answered all of our million questions, promptly. The entire process was quick and seamless and we couldn't be happier with her expertise. Thank you, Christi, for being so wonderful and taking good care of us!

Erin S

, happy client

Christi kept me informed of the whens and whys before they happened. This put my mind at ease through the refinancing process. It was so quick and easy with Christi as my guide!

Tracy S

, happy client

Christi was a pleasure to work with. She kept us up to date every step of the way on the refinance process and answered any questions or concerns we had immediately. We felt supported throughout the entire process. Christi had great advice and was always looking out for our best interest. I would definitely recommend anyone that is refinancing to use Christi and her team. Given a chance in the future she would be my first choice to work with.

Michael H

, happy client

I just bought my first home! It was scary and fun at the same time. Christi did such a good job getting me pre-approved and explaining just what she was asking for and why. It was a process for sure. So glad she walked me through it.

Karen V

, happy client
Why should
you

choose Ruoff?

Branches throughout
the US.
98.2%
Customer Satisfaction Score according to Customerville.
17
Days or less average
clear-to-close.
Years of helping
homeowners like you.
Milestones updating you throughout the process.
Minutes at the closing
table on average.
Calculate what's best for
you
Use our calculator below to find an estimated monthly mortgage payment that works for you. Please remember the dollar amounts displayed are not guaranteed, and what you actually pay may be different. These estimates are for educational purposes only.
Download our !